About Me !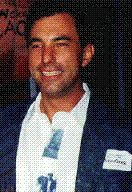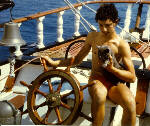 I was born in 1962 and raised in Cannes, France. At the age of 20, I decided to try the American adventure, I guess I liked it, I am still here... in wonderful Fort Lauderdale Florida. I was drafted in the French Army, but did not feel like going back to France for that, so instead I joined the US Army for 3 years.... Not so bad, I was assigned in Hawaii for 2 1/2 years! who would complain ! We deployed to Korea and Japan, it was a real nice experience overall..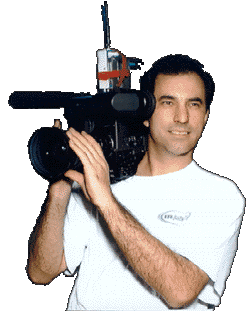 a little hard at first having a strong French accent but I made it through! Since then I managed to go to school and find a descent Job. I worked as "Bed Doctor" well let me explain: I was a technician for this company in Indiana that manufacture Hospital room equipment. From furniture to wall unit and of course Hospital bed... those that goes up down, sideways, etc...! and also a Nurse Communication System. Among other things I started to play with the internet and made my first own site. Part Time working for JustSurfit, I developped an interactive Live Video audio and ChatRoom and first started from Bootlegger's.
In September 1997, I started working full time with JustSurfit WebCams. I operated all the webcams from JustSurfit.com and specialized in the Live Event Broadcast. Yes the best there is... well so far..:) I went on location with our team, and all the equipment necessary to deliver Live Image, Sound and Chat room. From Clubs to donation, national events, and working with Broadcast station, I've done it all.

Starting Jan 1999 I now work for OVN Media. A company that specialise in high bandwidth transfer for live broadcast. Boxingonline.com is one of our client I spend most my time on.
Ok Enough said :)
My next Birthday day is

"La Croix Du Sud" 1965, 60' ketch. She was my family's house for a few years in France and took me from Cannes France to Fort Lauderdale in 1983, almost like Christopher Columbus. A wonderful trip that took us about 9 months. Well we stopped all over the place on or voyage, spending a night here and there, or a few days up to 2 month in the Canaries Islands... I have wonderfull memories about this trip and I miss her too.
One of my project is to make a full page with pictures about this trip....

Quick wash down Video for 28k or 56k Connection
Requires Microsoft Media Player

Click Here to see more Picture of "La Croix du Sud"

Click Here to see more Picture of "Moi"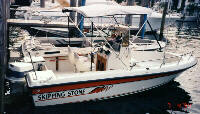 "Skipping Stone"is my little 17' get away from everything... you probably guessed by now, I love being on the the Ocean, or riding up and down the Intracoastal, Scuba diving.....sun tanning, in other word "taking it easy".
Lately, I havent had the time and company to enjoy this pleasure !!!! I miss it !!!
Ps: if you have a Bikini, you need not to apply to ride !!! :)

This is "FiFille" my littly girl, I found her by my car one night and I just had to keep her.... she is been wonderful and always around me or with me... she now is a full size playful trouble maker. I love her to death !!!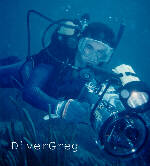 This my home made UnderWater Video Housing. I love to take under water videos... It's like diving twice... the second time at Home!
That too, has been a long time !!! and I am looking for a dive partner...

Do you ever feel the need for speed? well at time I used to... Thank God it's was an Old one... I didn't get to go tooooo fast, but I loved it when my lady held on to me! I do miss riding !!!
Wanna See where I live.... ???
Click Here to Find out.
Now Visit My Guestbook
and you have to sign it....
well it would be nice of you.. :)

I do thank you for taking the time to read my so little journal

I am just an E-mail away..
[ Home | My Links | About Me | My Home Cam | 2 | Office Cam | 2 | NetShow | Real | Schedule ]
[ Search UW | More Pics | Sail Boat | Where | Chat Now | Guestbook | E-Mail ]
Other Work related links:
[ Rosy | Eclipse | Laetitia | Kathie | Video Archive | Broadcasting | Cam System ]

Copyright © 1996, 97, 98, 99 UnderWeb, Inc. ALL RIGHTS RESERVED